Lara Buckheit, Special to the Cape Gazette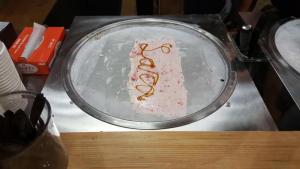 Thai-inspired ice cream rolls are the hottest thing in cool treats in Rehoboth Beach this summer. These cool confections are now available at Sweet Charlie's in First Street Station.
Founded by brothers Kyle, 19, and Jacob Billig, 21, last September, Sweet Charlie's rolled out franchise locations in Philadelphia and Rehoboth Beach. Another store in Cherry Hill, NJ is on the horizon.
Sweet Charlie's technique blends a showy flair in the creation of each frosty piece of art. The result is a one-of-a-kind experience in dessert fare.
"We have a two-hour wait in Philly every night," said Billig. "And people are starting to hear about us at the beach. It's exciting."
Each ice cream or frozen yogurt is made to order, with plenty of chuckle-worthy combinations ripe for the picking. Favorites include Off Duty Officer (premium coffee grounds and a fresh glazed donut hole), Namaste (pound cake and fresh strawberries) and Tall Charlie (served on a warm glazed doughnut, baked fresh daily).
Keeping it cool
The secret behind Sweet Charlie's amazing art is its super-cold preparation.
A liquid ice cream base is poured onto a 20F surface. Once it is solidified the ice cream is rolled into roselike wraps. Customers can even request their names written in caramel in the middle before the roll is ready. The made-from-scratch dishes were made popular by Southeastern Asian street vendors and the trend quickly spread to North America to urban locations including New York City and Philadelphia.  Because the process eliminates a need for preservatives, stabilizers and emulsifiers, customers are getting a tasty and chemical-free alternative for their summer days.
Each amazing treat can be purchased for about $7; toppings may be added in any desirable combination.
For more information, including videos of the rolls being made, go to www.sweetcharlies.com. The Rehoboth Beach location is at 70 Rehoboth Ave. in First Street Station.